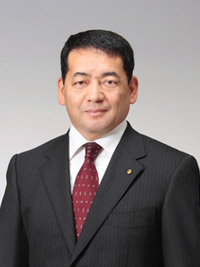 President: Shigeki Terashi
I was privileged to embrace the role of the President of the Fuel Cell Commercialization Conference of Japan (FCCJ) in April 2018. I am determined to make every effort to accelerate the commercialization and popularization of fuel cells by taking full advantage of the achievements attained during the 17-year terms of former Presidents.
As the Paris Agreement was adopted by setting the target of reduction in greenhouse effects in 2015, the activities with a view to realizing the low carbon society have been accelerated. Domestically, ensuring the stable energy supply has been an important issue ever since the Great East Japan Earthquake occurred in 2011. To prevent global warming and guarantee energy security, the hydrogen energy and the fuel cell technology which directly converts the hydrogen energy into electrical energy is supposed to be an essential method.
Since its foundation in 2001, the FCCJ has promoted the research, development, commercialization and popularization of the fuel cell related technology proactively by offering opportunities for a number of private companies and organizations to examine and discuss the commercialization and popularization of fuel cells. Through these efforts, The accumulated sales volume of the home-use fuel cell called "EneFarm" reached approx. 250,000 units since its launch in 2009. This achievement is receiving much attention from the world. And the number of FCVs sold domestically exceeded 2,500, while the total number of commercial hydrogen stations located in Japan reached 100 in advance of the rest of the world. Also, the fuel cell technology has been rolled out to mobility means other than FCVs, such as 80 FC forklifts already in operation, FC two-wheel vehicles running in public roads, Japan's first mass-market certified FC autobus model already launched, etc. Furthermore, with regard to hydrogen, the possibility of CO2-free hydrogen has been discussed to realize low-carbon hydrogen.
In December 2017, the "Basic hydrogen strategies" were adopted for building the hydrogen society before the rest of the world. These strategies show the vision for the future with a view to 2050, and the action plan to be implemented by 2030. Considering the corporate goal of the FCCJ, "Contributing to the commercialization and popularization of fuel cells in Japan and, accordingly, contributing to the future development of the fuel cell industry and its related industries throughout Japan," further concerted efforts need to be made as the circumstances around fuel cells still entail a number of unsolved issues. In an aim to realize the hydrogen society through the commercialization and popularization of fuel cells, we are determined continuously to engage in our activities by encouraging member companies to solve the issues they are facing, promoting the coordination and cooperation between them, putting together their consensus as a policy recommendation and allowing it to be reflected in the government policies and programs.
Your continued encouragement and support are greatly appreciated.