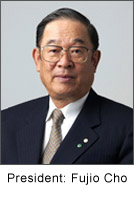 I was privileged to embrace the role of the President of the Fuel Cell Commercialization Conference of Japan (FCCJ) in April 2011.
I am determined to make every effort to promote the commercialization and popularization of fuel cells by taking full advantage of the achievements attained during the two consecutive 10-year terms of former President Taizo Nishimuro.
The Great East Japan Earthquake of March 11, 2011 accompanied by the accident at the nuclear power plant in Fukushima Prefecture is expected to seriously affect Japan's future energy policy. In view of Japan's high dependence on imports for energy, energy security is a vital issue for Japan. At the same time, Japan is required to ensure its actions contribute to the prevention of global warming. So far, Japan has proactively engaged in the development, adoption and popularization of new energy resources by promoting energy conservation and utilization of renewable energy resources. Japan is expected to further contribute to the world in the field of energy conservation and environmental protection. To effectively take advantage of limited resources, it will become increasingly important to build a social system based on not only technological development but also on comprehensive energy management. I strongly believe that we can encourage sustainable growth of the Japanese economy by using Japan's advanced technologies to promote a model based on an energy-oriented social system for the next generation, both domestically and abroad.
Fuel cells are characterized by extensive energy diversity and efficiency as well as excellent environmental performance. They constitute a core technology for next-generation energy systems. I am confident that fuel cells will play an important role in every social system including industry, public welfare and transportation.
Since its foundation in 2001, the FCCJ has been proactively engaged in the research and development as well as the promotion of fuel cell technologies by providing a forum for a number of private companies and entities to hold private-sector level discussion and examination of the commercialization and popularization of fuel cells. In the field of technology development, we are cooperating with the government to draw up policies to aid in the development of fuel cells by inspecting conventional regulations and suggesting revisions to bring them up to international standards. By doing so, we hope to provide a concrete path for the acceleration of fuel cell commercialization.
In addition to these activities, the sales of "ENE-FARM", a household fuel cell system launched in 2009, are steadily increasing due to the national fuel cell promotion policy and to the commercialization efforts of private companies. Furthermore, in the fields of fuel cell vehicles and hydrogen supply sources, FCCJ, in addition to 13 member companies, proposed a scenario for popularizing fuel cells for launch in 2015.
The objective of the FCCJ is to make an important contribution to the commercialization and popularization of fuel cells in Japan, and, by doing so, we hope to play a huge role in the development of Japan's fuel cell and associated industries. Further efforts are required through industry-government-academia collaboration since the commercialization of fuel cells has only just entered its initial stage and many challenges remain.
Aiming for the commercialization and popularization of fuel cells, we at the FCCJ will continue to ensure that our member companies tackle problems independently, while submitting policy recommendations that reflect the consensus of our members to encourage the government to reflect them in national policies. Your continued encouragement and support is greatly appreciated.